If you have been considering remodeling your kitchen, you have made a good investment decision because kitchen remodeling has one of the highest percentage returns later if you sell your home. Selective Remodeling loves making your kitchen a showplace you will enjoy for years to come. Here are some choices for kitchen remodeling that will increase your home's value:
Countertops
Natural stone countertops including granite and quartz are an excellent investment when remodeling your kitchen. With only a little care you can maintain their beautiful look for many years to come. Spending the money now when you remodel will allow you to increase the sales price of your home later when it is time to sell.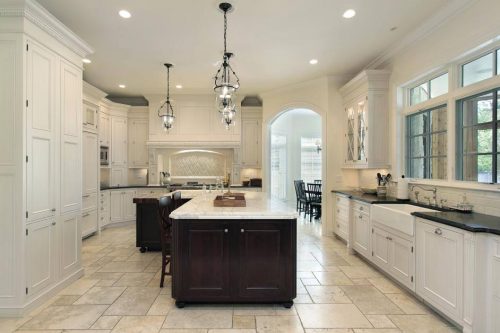 Flooring
There are many choices for kitchen flooring including natural stone, porcelain tile, hardwood, and engineered flooring. Any new floor will improve the look and value of the kitchen, but be careful not to go too crazy with flooring choices or colors. The floors should complement the natural stone countertops, and since the flooring area is larger it is the first thing a prospective buyer will see. The product that will offer the highest resale value is natural stone, but choose whatever product makes you happy.
Appliances
A kitchen remodel should include the price of upgraded appliances unless you recently purchased new ones and want to include them in your new kitchen. Stainless steel is preferred by most homeowners and homebuyers and is a good investment. Be careful not to spend your budget on unusual appliances such as a commercial freezer or an indoor grill. Use that money to buy higher-end dishwashers or refrigerators that have more appeal to later buyers.
Paint and lighting
A fresh coat of paint will always improve the look of your kitchen, even if you aren't replacing the cabinets. Use lighter colors such as green, off-white, or grey. Pick colors that complement the new countertops and flooring to make your kitchen look bigger and brighter.
Also, spend some time looking at your current kitchen lighting. It might be a good time to invest in some new lighting fixtures and even adding circuits for in-ceiling lighting or under-cabinet LED fixtures. You may wish to look at whether you can add or expand existing windows for additional natural light.
Whatever your kitchen remodeling dreams may be, Selective Remodeling can work with you to make those dreams come true. We are Long Island's best custom home, kitchen, and bath remodeling contractors. For more information about our services, or to arrange a consultation or a free estimate, please call us at 631-736-5049 or 516-596-8846.