When your closet is disorganized, and you need to sort through piles of clothing clutter before starting your day, it can make your day exhausting before it even begins. That's why it's an excellent idea to organize your closet like a pro. Not only will it save you time in the mornings, but it will also allow you to sort out the clothing and jewelry items you don't need anymore.
Additionally, if you're anything like us, you likely re-organize your closet continuously because it never seems to stay clean. Yet, there is a way to organize your closet once and for all, and it isn't as difficult as you might believe. A few companies, with Selective Remodeling being one of the best, can help you create your dream closet with separate compartments for all your clothing items. With a custom closet design, you can look forward to selecting the items you want to wear each day quickly and efficiently.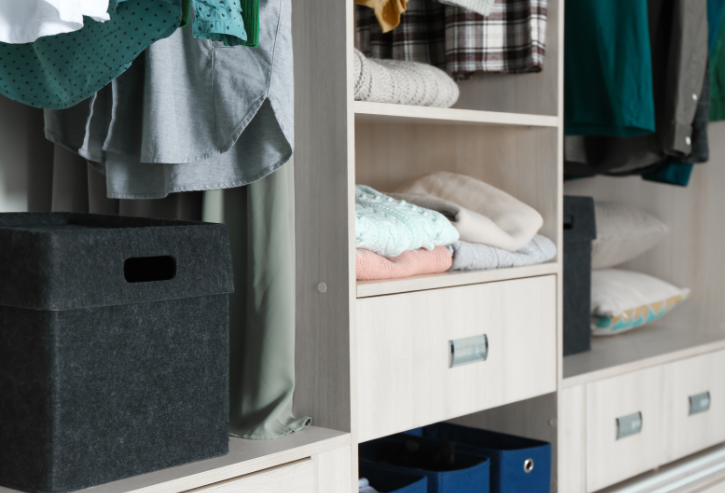 The Ways You Can Organize Your Closet Like A Pro
Learning how to organize your closet like a pro can change your life for the better. There are various ways that you can properly organize your closet, but we are going to speak about the top three ways so that you don't waste time and energy.
Empty Your Closet And Clean It
Are you used to simply throwing things into your close without rhyme or reason? Throwing things haphazardly into your closet can create an unsightly mess.
Emptying and cleaning your closet is the first step of the closet organizing mission you have chosen to embark upon. You will want to start with removing everything from your closet, including shoes, hangers, and other miscellaneous items.
After you have done this and cleaned the inside of your closet, you will have a much better idea about how you want to organize it and how many compartments you need.
Declutter Your Belongings
When you want to organize your closet, you will need to declutter your belongings. Many people are guilty of having items they shouldn't have in their closets. You need to make sure you take out all unnecessary items like books, files, stuffed toys, and any other items that aren't clothing, shoes, or accessories.
Additionally, although it can be hard to declutter your clothing, you need to get rid of what you don't want. The main reason you are organizing your closet is to establish a clean space to store your clothing. If you have too many items, your closet will quickly become cluttered again.
Try to focus on what you actually want to keep, items that you use or that have sentimental value. Anything that you don't use, is stained, is full of holes, is too small, or too big needs to be thrown out, given away, or donated to charity. Doing this will help you decide on your custom closet design, so you will know how much closet space you truly need.
Build-Out Your Closet
The next part of organizing your closet is likely the most enjoyable step in organizing your closet like a pro. To successfully organize your closet, you need to build out the space with various storage options.
You will need plenty of cupboard space that is varying sizes with some small, big, and tall compartments. You should consider working with an experienced, reputable, and professional remodeling company that has experience with building closets for the best results.
Once you have the storage compartment sizes, you want you will need to place hanging rods, drawers, and shelving according to the design you established. Drawers are convenient because you can store all the items you don't want on display or keep certain things like T-shirts, belts, ties, and shorts all in one convenient location.
Additionally, you can also choose to add convenient drawer dividers so that you can further categorize and separate your clothing or store jewelry that you don't want out in the open. Besides cupboards and drawers, you can use shelving and hanging rods to use your closet to its full potential. Shelving is excellent for putting your shoes or perfume bottles on display.
In contrast, higher shelves can be used to store away any items you are not using, such as summer or winter clothing, depending on the season. Moreover, adding rods to your closet will allow you to save space, and rods will also have your closet looking tinder and more aesthetically pleasing.
Choosing to organize your closet can be a difficult and daunting task, but it doesn't need to be. If you utilize a professional remodeling company, they will be able to provide guidance on how you should remodel your closet and organize it. They will likely give you this advice according to your budget and the size space you have available. At Selective Remodeling, there is no project too big or too small. We can help you design and build a closet space you will be proud of and enjoy utilizing.
In addition to building closets, we can also design and build nearly every aspect of your dream home. Our team of dedicated and skilled professional designers and builders will work alongside you to help make your building and organizational dreams a reality. To speak with one of our knowledgeable staff, you can visit us at 1129 North Broadway in North Massapequa, or call us at (516) 596-8846.