Since we can expect warmer weather and many hours of warm sunlight without the stifling heat of summer, it's the perfect time to freshen up your home with five renovation ideas we will discuss. At Selective Remodeling, we have the professional insight you need to renovate your home and freshen it up. Our experienced remodeling team would be more than happy to help you with any of the renovation ideas we discuss if you decide your home could do with a revamp.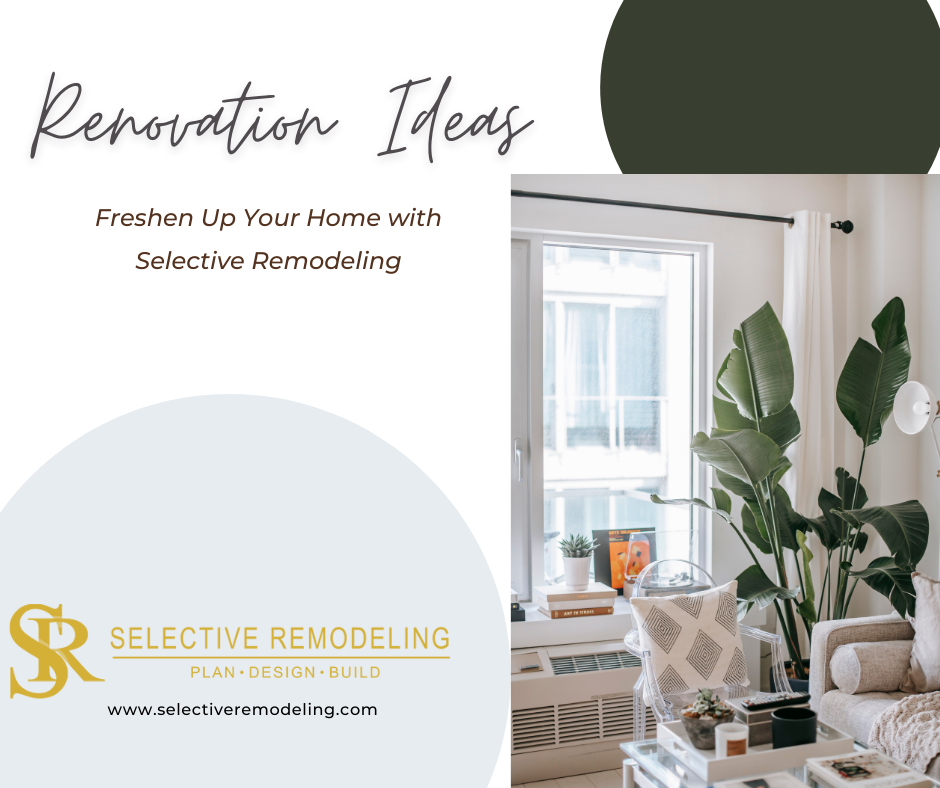 The Five Best Renovation Ideas To Freshen Up Your Home
Upgrade Your Home's Flooring
It might be a big renovation, but one of the best ways to renovate your home and freshen it up is to upgrade the flooring. Changing your flooring can make an enormous difference, especially if you choose hardwood or large tile squares. Let's break down these two types of flooring options you need to consider.
Hardwood floors: If you choose hardwood floors, you can create a classic and timeless look that adds warmth to your home. There are many different types of woods to choose from, like; reclaimed wood, maple, and eucalyptus. You could upgrade your flooring yourself, but it's often best to have a professional do it for you, especially if you have little flooring experience.
Large tile floors: Interestingly, large tiles provide a modern and contemporary look to a home, so they are a popular choice. Choosing to upgrade to tiles or larger tiles will help keep your home smart, clean, and sophisticated. Additionally, tiles come in many different patterns, and they help make small spaces look bigger.
Add a Fresh Coat Of Paint
One of the simplest renovation ideas you can use to freshen up your home is to apply a fresh coat of paint to the interior rooms. A fresh coat of atmosphere-changing paint in a new color can exponentially transform how a room looks and feels. Additionally, choosing to repaint your home is also the fastest way to have it look brand new.
The hardest part about choosing to repaint your home is deciding which color you should choose. The easiest way to decide on a paint color is to consult an interior designer remodeling company or consider the items you have or want to have present in your home.
For example, look at the area rugs and accent pillows you have and look for colors that these items would complement. If you don't want to do this, you can choose to paint your walls a neutral color to ensure all your accessories will match.
Take Down A Wall
Many homes have very basic designs that can have you feeling like you're boxed in. If you want a more spacious environment in your home or an open plan design, you might want to take down a wall.
You don't need to build an extra extension to your house if you want more usable space. You can knock down one wall between two rooms and create one large space. One of the best walls to knock down is the divider between your kitchen and your dining room.
Besides giving you more space, creating this type of amended floor plan can also have significant value to your home. Yet, you need to remember to get a professional like those at Selective Remodeling to give you structural advice before taking down a wall.
Consider Replacing Your Windows
If you have a larger renovation budget and want to take your home's renovations to the next level, you might want to consider replacing the windows or adding additional windows to your home. Replacing the windows in your home can make a significant difference.
Not only will it likely improve the lighting and look of a room, but it will also ensure your home is more soundproofed. When you look for windows, the first thing you need to do is identify the style of your home so that you can choose windows that complement it.
Should you be happy with the windows in your home but want more light, you can add extra windows like a roof window or replace your doors with glazed glass doors.
Update Your Home's Lighting
It might not seem like it, but one of the best ways to freshen up your home's atmosphere is to update its lighting. Updating outdated lighting with more modern or timeless pieces is a simple way to change a room's look.
Often people will update the lighting in their kitchen or lounge, but you need to remember the other areas of your home. Currently, one of the best ways to update the lighting in your bedroom, bathroom, and hallways is to install LED fixtures. LED lighting is subdued but can make a home look far more modern.
Choosing to renovate your home to freshen it up is a time of excitement and admittedly caution. There are many renovation ideas, but not all of them are great options for your home. That's why it's often best to consult a professional who can help you determine which of your home renovation ideas are achievable. 
If you like the ideas we have spoken about or have something else you would like to try, you can get in touch and speak with us at Selective Remodeling. We have the experience you need to ensure your renovation is done right the first time. With us on your side, you will have a thoroughly refreshed home in no time.
Contact us today!