If you are thinking about doing a kitchen remodel, one of the most important aspects of your remodel may not be the first thing you think about–but it should be. That's because the style, color and look of your kitchen cabinets can make or break your kitchen redesign. Here are three great design choices for your kitchen cabinets.
Top Three Kitchen Cabinet Choices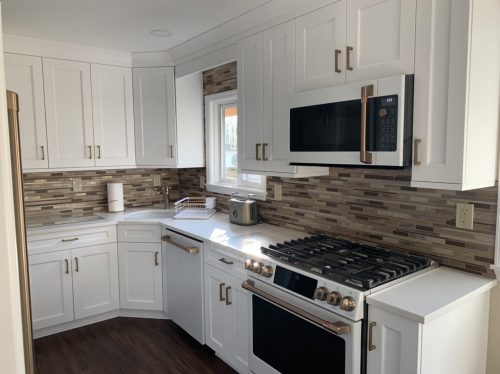 If you have a feature in your kitchen that you want to bring out, such as a gorgeous backsplash, or your breathtaking appliances or even your colorful kitchen vent, we'd like to suggest you go with simple cabinets. Shaker style cabinets, often featured in white, make a great choice when you are trying to keep your kitchen simple, or bring out the best in your kitchen design.
Are you cooking in a kitchen that is hot all the time? Perhaps your kitchen has a lot of high energy appliances? If so, you may want to choose a louvered kitchen cabinet, which has a lot of space in between each cabinet. This allows food, spices, and oils to keep their cool, even if the cook is heating up the kitchen all day.
If you like the industrial, farmhouse, or primitive look, you may want to think about distressed kitchen cabinets. With distressed kitchen cabinets, the cabinets would be painted, and then aged through a variety of sanding and painting techniques to give your cabinets a vintage look that is so popular.
No matter what type of kitchen cabinet you decide on, thinking about the cabinets first will go a long way towards creating your fabulous new kitchen.
If you are ready to remodel your kitchen cabinets, we know the perfect group to help! You need to contact Selective Remodeling at 631-736-5049, or you can stop by and see us at 406 Middle Country Road in Coram.