Kitchen cabinets often do not get the credit they deserve in terms of enhancing the overall kitchen. In fact, they contribute greatly towards the whole ambience of the room. Selective Remodeling brings you a variety of ways to liven up your existing cabinets in order to give your kitchen a modernized boost. The ideas below are not extremely time consuming to complete and only cost a fraction of the price of a complete kitchen renovation.
A fresh coat of paint can do wonders for any room in a home. Changing the shade a bit or deciding upon a completely different color will affect the entire appearance and sense of your kitchen. Darker shades exude warmth and coziness, while light hues convey a cheery, breezy atmosphere. Although natural and stained wood cabinets are timeless favorites, shades including deep green, navy, and charcoal are trendy these days. It is fairly simple to paint stained cabinets but it is a challenging task to stain cabinets that are already painted.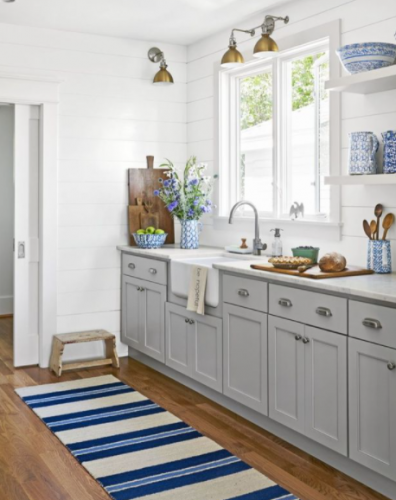 Adding or replacing the existing hardware with contemporary pieces is a small adjustment that will give your cabinets a posh and sophisticated flair. Brass pulls, handles and knobs are fashionable nowadays and you can select from shiny, less glossy, or oil-rubbed bronze for more of a homespun look. You can purchase a combo of handles, knobs, or pulls for a less conventional look or install only one style for a uniform end result.
If your cabinet boxes have remained in good condition, removing the doors and replacing them with new ones is another manner of updating your kitchen. Shaker-design doors never seem to go out of fashion and they offer an aura of fanciness. Doors with fronts that are flat are unembellished on their own; therefore, charming hardware steps forward and takes eye-appealing center stage. Plus, cleaning the doors is a breeze so they always look lovely.
Totally removing doors to create open shelving is an interesting concept that can be tailored to be uniquely your own. You can get as creative as you like with paint, wallpaper, or any other material you choose for the back portion of a cabinet. Another great idea is to insert a glass pane or metal lattice to the middle portion of one or more doors adds a nice enhancement as well.
Placing lights underneath your kitchen cabinets not only provides a soothing ambiance to the room, but has practical purposes when working in the kitchen after the sun goes down. Rather than turning on glaring, overhanging lights as the sole brightening source, this softer lighting option casts a peaceful and relaxing tone.
Selective Remodeling is a leader in the home renovation industry. We are a trusted company that strives for continued excellence in customer satisfaction. Our establishment is located at 406 Middle Country Road in Coram. Please contact us at 631-736-5049 if you would like further information.